Replacing Kuka Resolvers with Quadrature Encoders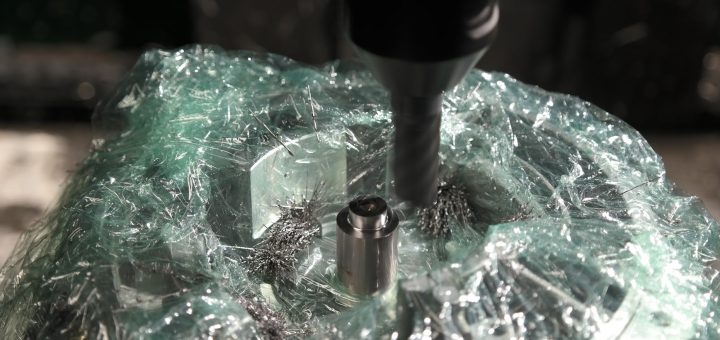 The PMAC motors that the Kuka arm uses were manufactured with old-school resolvers.  Resolvers are great if you need to handle extreme environments, but they are very expensive to interface and have poor performance compared with modern digital encoders.  After looking at many different options for new encoders, I ended up picking 5000 CPR quadrature encoders with an index signal.  Modifying the motor shafts to accommodate the new encoders proved to be a bit challenging, due to the fact that I don't own a lathe.  To get around that tiny fact, I came up with a solution using my CNC mill:
First I considered simply using a coaxial indicator to find the center of the shaft and have the CNC cut the circle, but I decided that method would be too error prone. I would have to somehow mount the motor perfectly perpendicular to the spindle, which would be difficult with the motor face. By running the motor with it bolted to the table, I was able to machine the motor shafts and ensure perfect axial alignment.  Any perpendicularity errors now equate to machining a taper, which is far less of a problem than a potential axial offset would have been.
To be able to run the motor on the machine, I had to have an encoder attached to the shaft so the controller could commutate the motor correctly. As you can see in the video, I used a plastic adapter to attach the encoder to the primary shaft of the motor while I was machining the back.
The results were excellent: